Just a few frivolities that have caught my eye and captivated my heart lately. Fashion! Music! Food! I feel like a teenager again! Maybe it's the upcoming summer season, but I am in an expansive, fun, open mood these days.
Sjobeck
Sjobeck is a Malibu-based label. I first fell in love with those lovely printed silk pants. I struggle with the idea of printed, loose pants because they remind me of those mean older quasi-hippie ladies at Bay Area farmers' markets with the carts and the food judginess and the arch voices, but these look so beautifully cut and chic. I did a little digging and fell kind of in love with their beautiful blend of California ease with Scandi-like arty prints and cuts.
Madewell's Fall 2013 Lookbook
Sometimes I am more interested in retailers' lookbooks vs. designer ones because retailers know they have to sell clothes and have an interest in making fashion actually wearable yet dynamic. I love Madewell's lookbook because this is how so many girls I know dress — it's happy, cheerful but not obnoxious, kind of preppy but off-beat.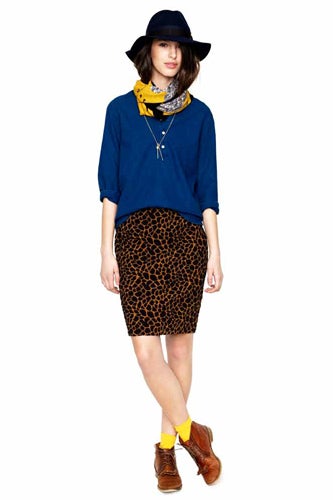 Those M&M Pretzel Candies
I wish I could be more fancy about food, but other than champagne and an enduring love of oysters and mussels, I'm kind of a proletariot when it comes to food. (Though last night at dinner I had fancier things like a peach nectar cocktail, scallops with mango-carrot reduction, a gourmet cheese plate and wild salmon with cucumber noodles and mint — all so delicious!) But generally, I'm really content with stuff like macaroni and cheese, guacamole and really yummy summer salads. And candy! I am usually not a sweets person, but these are my new favorites. They hit that crunchy-salty-sweet nexus so well. I really need to control myself around them, they are seriously addictive.
Records: Santigold, Beach House, The Walkmen
These are all my current late-spring jams! Nothing too leftfield, mostly stuff from established indie acts that I have long loved, and my usual quotient of sassy lady music. It's funny, I'm usually the first person to be like, "Rawr! Noise! Aggression!" But lately I like a more easygoing, comfortable relationship with music. I usually get more adventurous in the fall, but for now I'll stick with my well-beloved favorites.
[wpaudio url="http://www.katasharya.com/media/Santigold_07_The Riot's Gone.mp3″ text="Santigold, The Riot's Gone" dl="0″]
It took me awhile to get into this record, but I'm glad I stuck it out. It's a bit more subtle than her debut, but there's more emotional depth. This is one of my favorite tracks, elegiac and anthemic all at once — it makes me want to do something epic with my existence.
[wpaudio url="http://www.katasharya.com/media/Beach House_03_Lazuli.mp3″ text="Beach House, Lazuli" dl="0″]
I got early on the Beach House train, and have always loved their dreamy, lovely sound. This record feels a lot more clear and strong to me, but there's no sacrifice of mystique — it's still the sound of ocean air at night, chandeliers sparkling like champagne, the scent of perfume still lingering in bedsheets at dusk.
[wpaudio url="http://www.katasharya.com/media/The Walkmen_11_Heaven.mp3″ text="The Walkmen, Heaven" dl="0″]
I feel like the Walkmen and I are odd compatriots, mostly because we're of the same age and same NYC generation. I still have memories of seeing Jonathan Fire Eater, their earlier carnation, way back in the day. I was semi-annoyed with the Walkmen at the beginning of their career, but as they've gone further along, I like their records more and more. I love that they have evolved into these sort of elegant gentlemen of indie rock, sharp suits slightly rumpled but still well-worn.